How to Spend a Day in Valladolid, Mexico-the Charming Little City You've Never Heard Of
Valladolid, Mexico-Why this colourful Yucatan culinary hot spot should make the cut on your next Riveria Maya, Mexico vacation
ARE YOU LAZING AROUND ON THE MAYAN RIVERIA, loving life, enjoying the sun, but ready for a different side of Mexico's East coast tourist track experience? Peeling yourself off the beach can be a challenge, but with new eats and mystic cenotes right around the corner, Valladolid makes leaving your Lounger chair well worth it.
A small city located north east of the iconic Mayan Riveria-an area known for its spectacular beaches, seaside Mayan ruins and stretches of four star resorts- rarely mentioned and often overlooked is Valladolid. Just two short hours from Cancun, and only ninety minutes from the beaches of Tulum- Valladolid is closer to your beach vacation than you think. With a small town Spanish vibe, seriously picturesque streets, traditional Yucatan dishes and too many nearby cenotes to count, visiting this small city makes leaving the beach well worth it.
WHAT WE TASTED
If following your stomach is a pastime of yours, then you've come to the right place.
Valladolid is smack dab in the heart of the Yucatan Peninsula, a region known for its distinct tastes and unique dishes. Traditional Yucatan cuisine fuses indigenous spices and cooking techniques with Spanish and European flavours- sounds pretty alright, am I right?!
A city full of vibrant street food carts and traditional Yucatan restaurants, (novels could be written about the tasty treats found here), you could saftely eat yourself into a food coma within a few hours visit.
Impregnate your hunger with these delicious treats: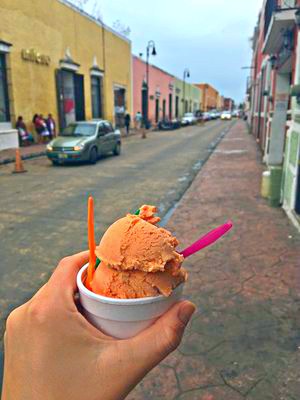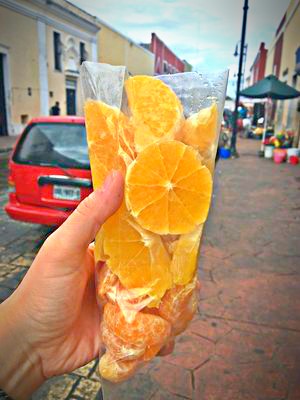 Pictured on the far left is the Yucatan specialty Mame, (pronounced Ma-may), ice cream. Made from a locally grown fruit known by the same name, indigenous to Mexico and Central America, its bright orange color comes from the natural hue of the fruit. Packing a super complex flavor profile-rich and nutty with hints of vanilla, almond and red fruits-this delicious ice cream is available for 10 pesos a scoop in several helado shops located around the Zocalo
Fresh fruit,( including the brightest and freshest oranges I've ever tasted), and popular snacks such as roasted pumpkin seeds, (Pepitas as they are known locally), are sold in stands scattered throughout the streets
Yuactan specialties like Relleno Negro, (pictured on the far right), provide unique spices and textures different from the Mexican fare you're used to. Relleno is turkey breasts and legs cooked with a paste of charred chilies, vegetables and hard boiled eggs.
Marquesitas are a dessert native to the Yucatan made right before your eyes in the center of the Zocalo, (pictured above is a Marquesita stand).The chef de Marquesita spreads out the liquid dough before pressing it between a cast iron press,then adding toppings of your choosing, rolls it up and Bobs your uncle- you have a delicious and simple masterpiece. The delicious waffle cone/crepe like flaky hand held dessert explodes in your mouth with warm and oozy goodness. Note all of the delicious toppings you can choose from; Nutella, peanut butter, cream cheese, strawberries, pineapples, ham and the list goes on. Edam cheese is the most common choice for locals but we went with Nutella/Peanut butter/banana combo to satisfy the sweet cravings and pineapple/ham/cheese to concur my constant pizza cravings, (this time clearly it was classic Hawaiian on my mind)
WHERE WE VENTURED
Between bites of Mame ice cream and Pepitas head over to Street 39, (or as they say in Spanish Calle 39), between 35/36. Here you will find Cenote Zaci.
Named after the original Mayan title of Valladolid, Zaci is an awesome way to cool off and refresh. Winding staircases built alongside the natural rock faces allow for easy access to the pools and caves below.
Zaci is only a few minutes drive from the center of town and is the perfect getaway for a few hours of exploring and cooling off. The walkways lead to small caves for relaxing or taking in the view. The pool is deep and cool and perfect to dive into after a morning of exploring the city.
WHAT WE SAW
A big draw to Valladolid is exploring the city's multicolored calles. Encircling the historic center and the stunning Cathedral San Gervasio are rows of brightly painted homes and businesses. Beginning at the Zocolo head down any given street to find even more stunning structures, artisan craft museums and shops, more food stalls and smiling and welcoming locals.
Wandering around Valladolid makes you feel not so much the outsider that the resorts of the beach side destinations often do. Sure you will find other travelers here but the natural working order outside of tourism makes for a pleasant and authentic visit.
NEARBY SIGHTS WORTH MENTIONING
Valladolid's proximity to numerous ruins makes it the perfect base for any archaeology buffs fantasy trip. Head west to visit wonder of the world Chichen Itza, or go south bound to both Coba and the stunning beach side ruins of Tulum.
Driving times to the following:
Chichen Itza:45 minutes Coba: 30 minutes Tulum : 90 minutes Ek Balam: 20 minutes
GETTING HERE
By Car:
Cancun: Follow Mexico 180D west towards Merida. Total trip distance is 150 Kms, or one hour and forty-five minutes drive.
Playa Del Carmen: Follow Mexico 305D north for 46 Kms, until you reach the exit for the Cancun-Kantunil/Mexico 180D highway. Merge onto 180D west towards Merida. Follow this for 80 Kms until you reach the signs for Carr. Federal 295 exit toward Valladolid. Total trip distance is 141 kms or one hour thirty minutes drive.
Tulum: Follow Mexico 109 North towards Coba. At the Coba exit turn left onto Cancun-Valladolid Mexico 180 westbound. Continue to follow 180 until you reach the signs for Valladolid. Total trip distance is 102 kms or one hour twenty minutes drive.
ADO bus: Several buses run daily from the major centers of Cancun, Playa Del Carmen and Tulum. Click below to check the ADO website prior to your day of travel for up to date schedules.
Thanks for stopping by! Are you planning a trip to the Yucatan? Let me know! Have anything further to share about Valladolid? Please share below. Happy travelling to you.
Cheers
Eva
Interested in more Mexico travel? Check out Why Tulum Should be at the Top of Your Bucket List.