Casa Coati: Why This Unique Oasis is the Vacation Rental of Choice in Sayulita, Mexico
PLEASE NOTE:THIS POST WAS NOT SPONSORED. WE SIMPLY WANTED TO SHARE WITH YOU our review of A ONE OF A KIND SAYULITA vacation HOME IN HOPES YOU TOO CAN ENJOY THE AMAZINGNESS THAT IS casa Coati.
Searching through an endless mass of vacation rental homes feels like browsing Tinder on a Friday night-
Lots of clicking through profile after profile, trying to find the one for your next vacation. After collecting what seems like a decent amount of right hand swipes, or prospects in this case, you carry on to closer inspections of your choices.
Once you start compiling your list the connections begin and as you reach out to potential house suitors the ones without available weekends, a solid foundation, or those that just don't light you up inside get tossed aside. Narrowing it down can get tedious-after all this is your precious vacation time we are talking about.
Organizing a visit to Mexico's beautiful beach town of Sayulita, Nayarit is no different. A small fishing village turned trendy, boho surfing town, Sayulita is a super fun time. There are no huge resorts here or high rise condo rentals. Instead there are unique villas, some modern and contemporary, other's done in the local hacienda style. Regardless there are ample choices, so many in fact that choosing can be as over whelming as finding your next Friday night date. All of the properties in Sayulita do not have addresses-instead they have names, making their unique attributes even more interesting. These villas have life and pulse, and the energy and thoughts of the owners are often present in their walls.
Luckily for you Casa Coati is total babe of a sayulita rental home
Casa Coati is rustic-chic, built with traditional hacienda features and amazing creative details that make staying here a totally unique and memorable experience.
Casa Coati is owned by Meagen Svendsen, an visual artist from Denver Colorado and her partner Robert a designer-builder of historic-style houses. Their personal pieces and collections of works add to the overall feel and design of the property. The colours are warm and inviting and the traditional Mexican style fused with Svenden's eclectic collection make this home a truly one of a kind.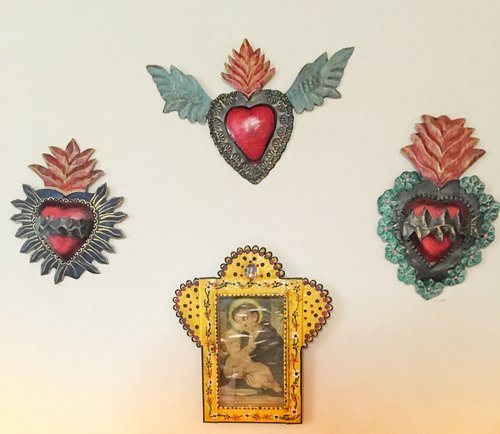 Located just a stone's throw from the Sayulita elementary school, Casa Coati is located in the prime spot; one block straight ahead is the beautiful, quiet north side of Sayulita's beach. Here you will find the stretches of almost empty, clean sand to enjoy. The town centre is a slow five minute stroll away, which can be accessed by road or beach. Casa Coati is also located at sea level and does not require any mountain climbing like the homes located on Gringo Hill.
The home contains three spacious bedrooms-each with it's own en-suite. Two bedrooms are found upstairs, both with patios overlooking the pool and gardens. The largest of the two bedrooms contains a small loft with a single bed. There is a hand made wooden ladder leading to the small loft, ( just another one of the beautiful unique details of Coati), making the space perfect for one adult or child. This bedroom also includes an open air shower. Perfect for enjoying the pacific sea breeze.
The showers themselves are all something to celebrate, with unique graphics, tiling and design, bathing yourself reaches a whole new level of interest, making a quick shower feel like a visit to a gallery. Even the bathroom walls are adorned with geniune art work.
The third bedroom is located downstairs, also with its own tiled washroom and spacious bedroom.
Additionally there is loft style 4th bedroom available, which we took use of and rented in addition to the rest of the casa. Beautiful hand made hammocks and a brightly painted washroom make this extra hideaway a quiet haven.
The beds are comfortable and not your usual hard as a rock, thin as a board specials. Linens were soft and new and bedding was all Sayulita, with the soon to be iconic beach blankets from Las Bayadas covering each bed.
The kitchen was created using beautiful red and royal blue tiling, again complimented with small pieces of local and American art. The dinner table is large, handmade, and comfortable enough to sling back many a tequila shot and guacamole feast.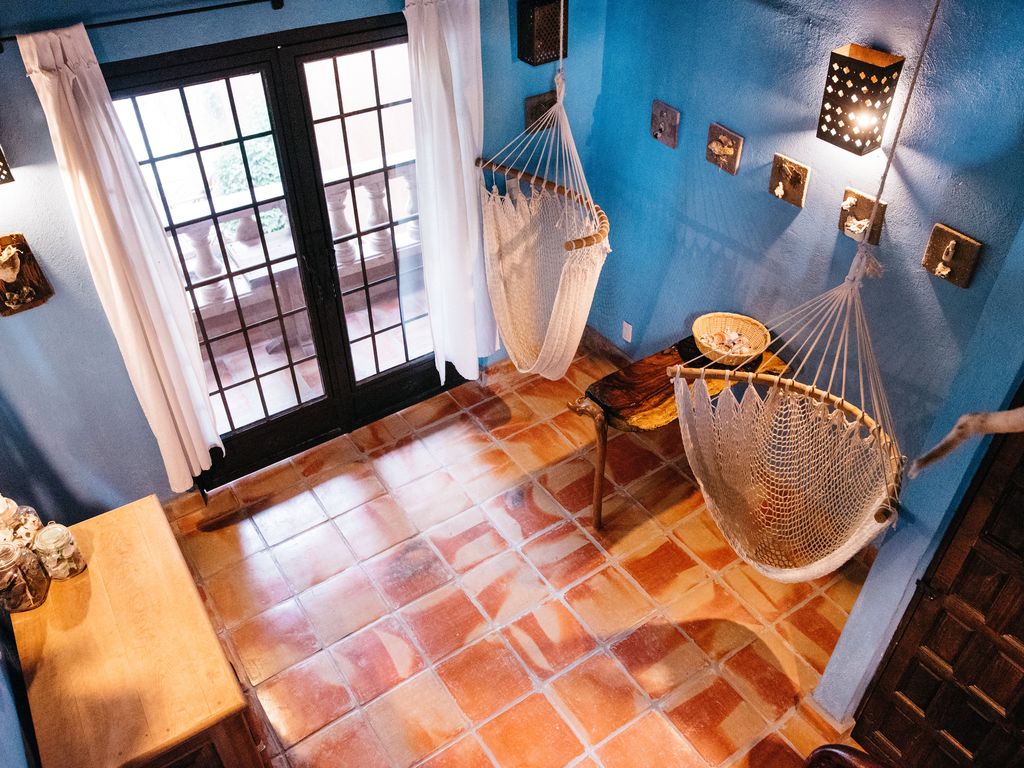 The pool is an area of refuge on a classic sunny Sayulita day- the design allows for morning sun but the surrounding wall and garden mean that afternoons, while warm, stay nice and shaded allowing for a cooling experience. The high protective walls also double down as a fantastic sound barrier, keeping your late night pool party dance offs from distrubing the neighborhood.
Last but not least is the scenic and very chill rooftop. A seating area, hammock and small viewpoint loft make up the roof of Casa Coati. The views overlooking the tall tropical trees of Sayulita and on to the Pacific are a wonderful way to take in sunsets, and a perfect spot to enjoy your morning coffee. The salty ocean breeze and crashing ocean waves can be enjoyed at any time of the day, but I am a true sucker for the peaceful tranquility of Sayulita before the hussle and bustle begins.
The house comes with so many Instagram worthy spots it's hard to capture them all in one post.This house is much more than just your standard vacation rental. Coati is a unique and vibrant work of art.
To find out more about pricing and availability you can find Meagen and Casa Coati on Air BnB.
Some places we recommend near to Casa Coati:
Club de Playa Camaron- beach bar with awesome beats, various dance floors and a loco Friday night party
North Side Cafe-fantastic breakfast spot, highly recommend the banana pancakes
Turtle Preservation-Enjoy taking part in the release of baby turtles back into the wild. Click here for more information.